Helen Kahlke
March 21, 2022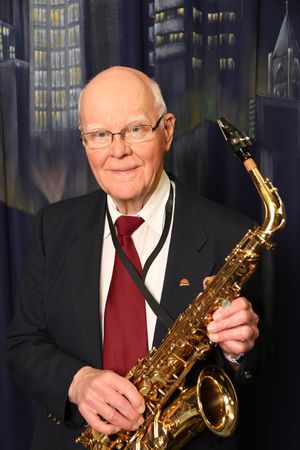 Due to COVID-19, The Moonliters were not able to celebrate our 50th anniversary in 2021 as we had planned.
The band was founded by Larry Homer in 1971, and until we hit the pause button in March 2020, one of the founding members of the original Moonliters had been playing with the group for its [until then] entire 49 year run. In 2021, Ian "Doc" Graham informed us that he would not be returning to his Alto 1 chair, and that his 50 year tenure in the band had come to an end. 
I recently sat down with Doc, and spoke with him about his experiences and reflections on playing with The Moonliters.  
---
The very beginnings of The Moonliters Big Band
Prior to your retirement from the Moonliters in 2021, you were the last active, founding member of the group. How did you end up in The Moonliters? 
Larry [Homer] had put a group of players together to practice and to play for fun. 
One night my wife and I were invited to a fellow doctor—and alto saxophonist's—house for dinner. I was told to bring my sax along so we could do a bit of playing afterwards. Larry was one of the other guests for that dinner, and had brought along his tenor sax.
After hearing me that night, Larry invited me to join his group.  
Fraser Simmons was the piano player, and we got together and played at Fraser's house. 
Fraser's father had worked for National Homes, which was managed by Larry. (National Homes built prefabricated houses.) Another employee from National Homes also played in Larry's group. Herb Fultz was National Homes' accountant, and played tenor sax. 
The other saxophone player was an alto player from Mission: Albert McMahon. Al was a prominent lumber company owner from Mission.
The original line-up was 4 saxophones (Herb, Larry, Al, and I), with Fraser on piano. We used simple arrangements like Combo-Orks. 
Later on, Larry needed more people, so he called a trumpet player from Vancouver who would come out and play with us. 
That little core group formed the original Moonliters band. 
There is a story of our first little gig. We put on a dance at a club called Hole In The Wall. Some of the old timers in Abbotsford will remember it. We put on this little dance for our own friends, and that was the first dance The Moonliters played. 
Things gradually grew from there. John McGowan, a car dealer in Abbotsford, was our first drummer. We added a trombone. Then a 2nd, 3rd, and a 4th trombone. We had some guys who came up from the US, including Dale Steele.[Who is still in the band on Trumpet 2.] 
Could you share some of your memories from the first rehearsals. 
One incident I always remember was that we weren't playing together very well. So the rehearsals, they were sort of uh… There was no leader, and everyone would throw in their ideas and criticisms. 
I was playing the 3rd Alto part, and I wanted the 1st Alto to put more feeling into it. They recognized that, but they said: The way we are going to solve it is: listen to the 1st horn in your group. Even though he's not playing the way it's written, play it the way he's playing it, so you'll all be together. 
The band is still like that. I think of it as a communist system [laughs], where everyone is equal. Even though we have a bandmaster, everyone throws in their ideas and criticism. It's an old tradition with the band. 
The evolution of the band, and Larry Homer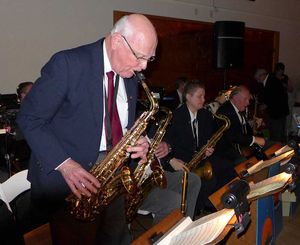 So in the beginning then there was no musical director, but there have been quite few of them over the years. 
Yah, the guy I remember was a nice chap from the US. His name is Phil Henderson. And I think Derek Albon, he was a piano player with the band from the early days. Bob Crispin who played [tenor sax] with the band. 
It's amazing how many people went through the band, and some of them went on and are really good musicians. Players like [Juno winners] Brad Turner and Bria Skonberg. 
A few years ago I started to put together a "family tree" for the Moonliters based on a genealogy chart Al once showed me that he had started to put together. The idea was that each limb of the tree would be one section of the band—sax, bones, trumpet, rhythm—and each player who had been with the group would have their own leaf. 
As I soon discovered, there had been so many players who had been members in the band's nearly 50 years, that for the tree to be able to have a leaf for each player, the image would need to be the size of a living room wall. We have had a lot of members in 5 decades. 
In the archives that I had, I kept track of disbursements to members for gas allowances when our finances would allow for it. There would be a lot of names you could look up in there. Rod now has those archives. They are in a briefcase-type folder with a Moonliters sticker on the outside. 
Larry Homer was of course the founder of The Moonliters. What are your memories of Larry, and what he meant to the group?  
He was the father of the band. He held the thing together. Larry worked so hard for the band, and would go out and look for jobs. For instance, he would go out and talk to the Abbotsford Police. He also went out to the Ramada Inn when it first opened, and he got us a job or two in there just by lobbying the Manager. 
In other words, not only did Larry get and keep the band going, he gave a lot of himself. 
He did. He devoted his retirement years to the band. He bought a lot of music for the band. I remember he asked me to suggest some arrangements for tunes. He was trying to find arrangements that would fit our group--and he did. He got a lot of music for us, and he never charged the band. He put not only his time, but his own money into the band. He was also awfully good to the musicians. 
Larry would sometimes buy gifts for players with his own money. With me, he took my Yamaha sax and said: You should have a Selmer. He found a Selmer, so he traded me. I asked: Do you want some money to make up some difference in the value? He said: Oh no, no. I'll take an even trade. 
[That was just] Really nice of him. He was good-hearted. He thought an awful lot of "his boys" in the band. I have a little picture of him that his daughter gave me. You might be able to reproduce it. [Inserted below.]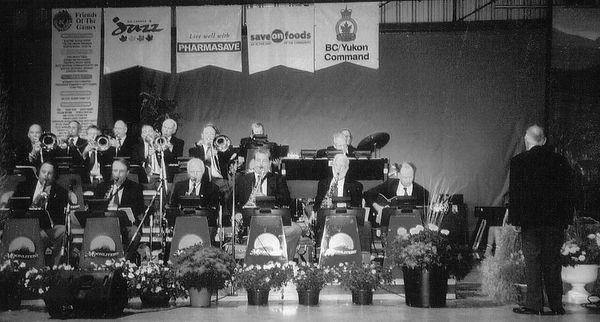 It shows him while we were playing a gig out in Chilliwack—he was retired from active playing from the band at this time. He is looking at the band and listening to sound. You could see that he is thinking in his mind: That's my band. And it really was his band. 
The Moonliters has changed a lot over its 50 years. What are some of the ways you noticed the band has changed? 
It got larger. It got more professional. The calibre of playing has increased. 
It came to a point where Larry wanted us to have a uniform, so he called a sales person from a clothing store. They came to a band practice and measured us up for these blue jackets. 
By the way, that is another thing Larry did for the band. He organized the uniform look, so that we would look more professional. 
Where did that backdrop featuring a moon and city skyline come from? 
That was Fraser Simmons' dad who made that. His dad was a graphic artist who worked in the advertising department of National Homes that Larry managed.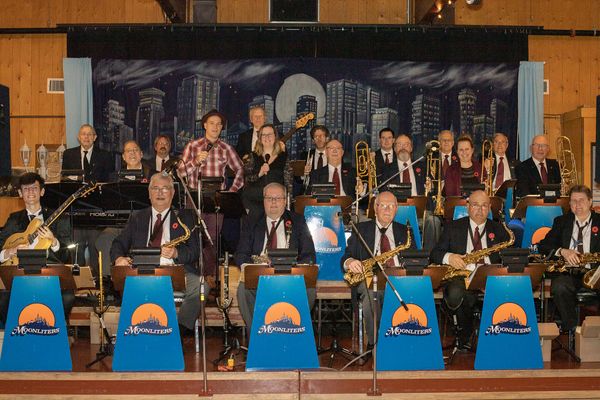 The loss of Al Turner
In February we of course lost a cornerstone of our band: Al Turner. Ever since he joined The Moonliters in the early 1980s, he was an integral member of the group. After Larry's passing in 2005, Al took on many of jobs and roles that Larry used to do. 
What are some of your favourite memories of Al? 
Al gave an awful lot of himself to the band, and always drove the truck/van loaded up with stands [and gear]. Not only did he drive the truck; he would help load and supervise its loading, He also rented the truck; brought it over; and had everything organized to move onto the truck before it arrived. Everything had its place. He was really careful about all the band equipment and looked after it so well. 
There was one trip where they didn't secure the piano so well though, and it fell off the back of the truck.[Chuckles] 
Yes, that particular "piano story" is a Moonliters legend. It even made the papers back in the day. 
Can you think of any particular funny Al story ? 
Al wrote a quite a few arrangements for the band. On one of them, for the arranger's name he wrote: Yep Imanokoff. Gary Raddish, our piano player, thought it was a real person and tried to Google the guy's name and couldn't find it. [Laughs] 
50 years of memories. What a run it was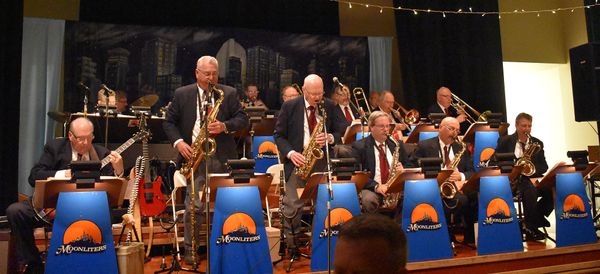 What are the memories you take with you as you leave the band after a remarkable 50 year run? 
Playing with the saxophone section. It was a privilege; it was fun. It was something I always wanted to do since I was a teenager: play in a dance band's saxophone section. 
Having a chance to do that was remarkable I'd say. It was a big part of my life. My life would have been a lot emptier I think, if I wouldn't have had that chance. And it is all thanks to Larry of course. 
I have to say, playing with you as been a privilege, for the time I was able to do so—COVID cut that short unfortunately. 
This group of people is unique, and they are lovely. 
Yes, they are good guys. 
They are fabulous. Not only are they fantastic musicians, they are lovely human beings. 
Larry recognized that too. He said the fellowship was a big part of the band. 
I have the greatest amount of respect for you; I have the greatest amount of respect for everybody in that band; and I really enjoy my Tuesday nights; but I miss you. I miss playing with you. I miss your company. You leave a huge hole in the band. 
Well thank you. That was a warm tribute, and I appreciate it. 
I'm very glad and thankful that I got to know you during this time. Thank you for being such a great section leader, and being who you are Doc.