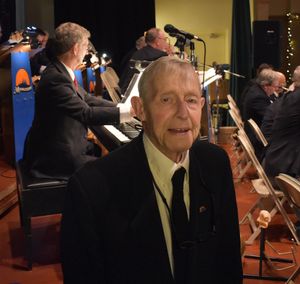 It is with an incredibly heavy heart that The Moonliters have to announce that we lost one of our own. Alan Turner had been with The Moonliters since the early 1980s.
In his four decades with the band, he had held numerous roles: trombone player; auxiliary Latin percussion player; arranger; board member; band manager; roadie; carpenter; painter; as well as landlord.  
Al loved the music of the big bands
Al had a love for all kinds of big band music. Regardless what decade it came from, Al could appreciate the nuances of the arrangements. When we rehearsed, he would be listening to all the sections, and if one player was off, he would let us know. Because he was too polite to point a finger at who it was specifically, he would mention a section—sax, trombone, trumpet, or rhythm—didn't quite sound right, but not which part in the section it was. 
This was especially true of his own arrangements. Al arranged approximately 20 charts for The Moonliters. These were all done without the aid of a music notation program. His penmanship was fantastic, and when you read the music, you would never know that these charts weren't created on a commercial printing press. 
I once asked Al if he had any formal training in arranging, and he said "no". I then asked him: How did you know when you were putting the charts together that this and this would sound good together, or how to write for a section?
Al explained that he just looked over the charts The Moonliters had to see how they were arranged. OK, I said, "but how did you know what you were putting down on paper would work?" Apparently, he could just hear it.
Quite a remarkable skill really. Some of Al's arrangements are medleys and are among the most difficult charts we have—as well as the most beautiful. 
Abbotsford Concert Band 
Al's arrangements weren't just limited to big band charts. He also made arrangements for concert bands, which he shared freely with the Abbotsford Concert Band—as well as the more recent, Cascadia Wind Ensemble. Al had been a member of the Abbotsford Concert band since back in 1981 or so.
The following is from Shannon Goldsmith, the Conductor of Cascadia:
Al Turner was a long-time friend of Cascadia Wind Ensemble.  He was a talented arranger who freely provided his arrangements; they were, without exception, playable, authentic, and masterfully done.  He even prepared a new arrangement for me on my request for a specific tune for a specific concert. He was a loyal audience member, and he always had a kind word for Cascadia members.  
During my time as Conductor of the Abbotsford Concert Band, I came to know Al.  In fact, everyone in the band knew Al.  We played all of his arrangements for concert band, and they were all great.  He came to all of our performances, rain or shine, indoors or out, and supported the band in countless ways.  
He will be missed.  
Shannon Goldsmith, Music Director, Cascadia Wind Ensemble
Death of Larry Holmer 
Larry Homer founded The Moonliters in 1971. For the 34 years that Larry looked after the band, The Moonliters were based out of a studio on his property. When Larry passed away in 2005, Al stepped up and took us in—complete with all our gear. (And that's a lot.)
Every Tuesday evening from 8-10 PM the sounds of big band music would emanate from an outbuilding at Al's house. On warm evenings the doors would be open, and his neighbours would often sit outside and enjoy weekly big band concert as our sound travelled through the countryside.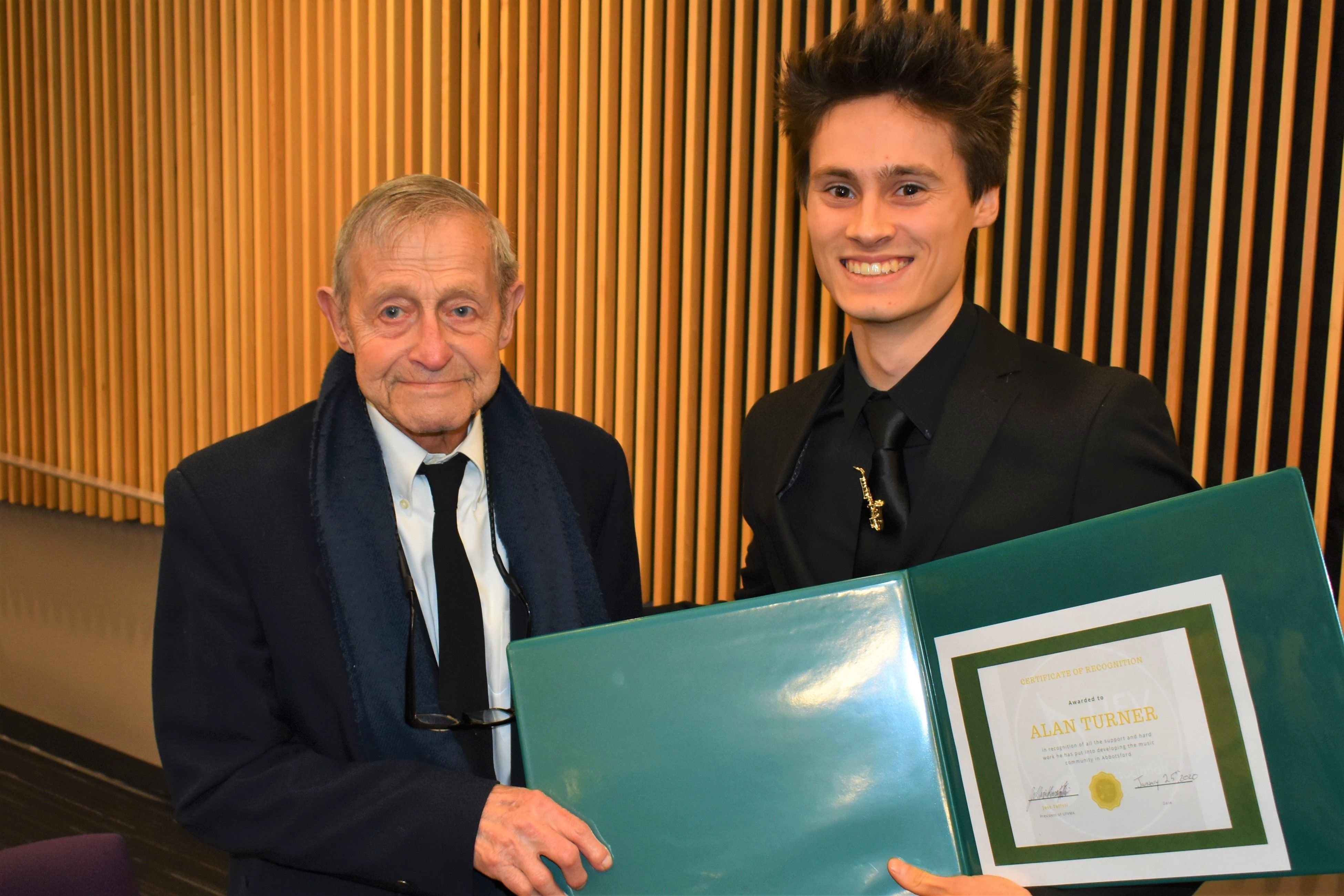 One of the numerous awards he received during his lifetime. This Certificate of Recognition was for all the support and work he put into the development of Abbotsford's musical community. It was presented in January 2020, by the then-fledgling University of the Fraser Valley's Music Association. 
Life after Al 
With Al now gone, things are having to find a new normal. When COVID-19 shut everything down in March 2020, The Moonliters shuttered for nearly 18 months. When we did start to rehearse again, it was in fits and starts, but due to social distancing requirements, we could not go back to our practice space at Al's. 
At present we cautiously optimistic about the future, and even have a private function booked [again] that had previously been cancelled two years ago because of COVID-19. We are also looking at getting a few dates booked at Bradner Hall for some dances in 2022. Fingers crossed. 
The Moonliters owe a huge debt of gratitude to Al Turner. Like Larry Holmer before him, Al provided us a home, carefully managed the talent, the band as a whole, and most importantly, gave greatly of himself in countless ways that we will be forever indebted for. 
Whenever we use our custom Big Band stands, or pack and unpack our very clearly labelled gear boxes, we will be reminded of Al. Al designed, made, and painted all of them. 
As Ian "Doc" Graham—who just retired as our Alto 1 player after 50 years, just reminded me—Al looked after all our gear, and made sure it continued to look and function like new. With Al gone, it is now our job to pick up the torch and do the same. And we will do just that, because that is the best way we can honor the man we hold in the highest esteem.
The family's obituary is viewable on the Abbotsford News site.